Sharon Case, who is from the United States, is an actress and used to be a model. She is well-known as an actress who has been on hit soap operas like General Hospital and As the World Turns.
As Sharon Case and Mark Grossman collaborated, observant followers noticed that two of them huddling close in social media photos they shared, and they wondered if they were a couple or just buddies. When Case came on the podcast "90201MG" in 2021 to speak with Jennie Garth and Tori Spelling (Donna on "Beverly Hills, 90210"), they finally discussed their connection. Initially, they had never actually acknowledged or denied their love relationship (Kelly on "Beverly Hills, 90210").
Sharon Case Explained Why She Spoke Out About Her Relationship
The Young and the Restless actress recently discussed her relationship with Mark Grossman in public. She also mentioned how simple their relationship was off-screen, which made their on-screen relationship smooth. Many viewers also saw how close Sharon and Adam became despite the current COVID guidelines on Young and Restless.
Curiously, it was the commencement COVID-19 guidelines that persuaded Mark Grossman and Sharon Case to acknowledge their attraction to one another.
The "90210MG" podcast quoted Case as saying, "We're still not allowed to touch or kiss; we have to stand six feet apart, but if you are acting with someone in the storyline who you are in real-life quarantine with, which is the case with me, we can touch or kiss, yeah, so we have a couple of people on the show who can touch or kiss, that doesn't mean we have to be in a storyline together but we could be."
Also Read- Why Did Kayla Itsines Divorce With Tobi Pearce? Got Engaged Kayla with Jae Woodroffe 
Jennie Garth inquired about her real-life dating status after she said that. We've never discussed it so openly, but Case remarked, "I guess the reason we eventually brought it up to the studio was mainly so we wouldn't have to distance ourselves in case the show wanted to write us in together in scenes."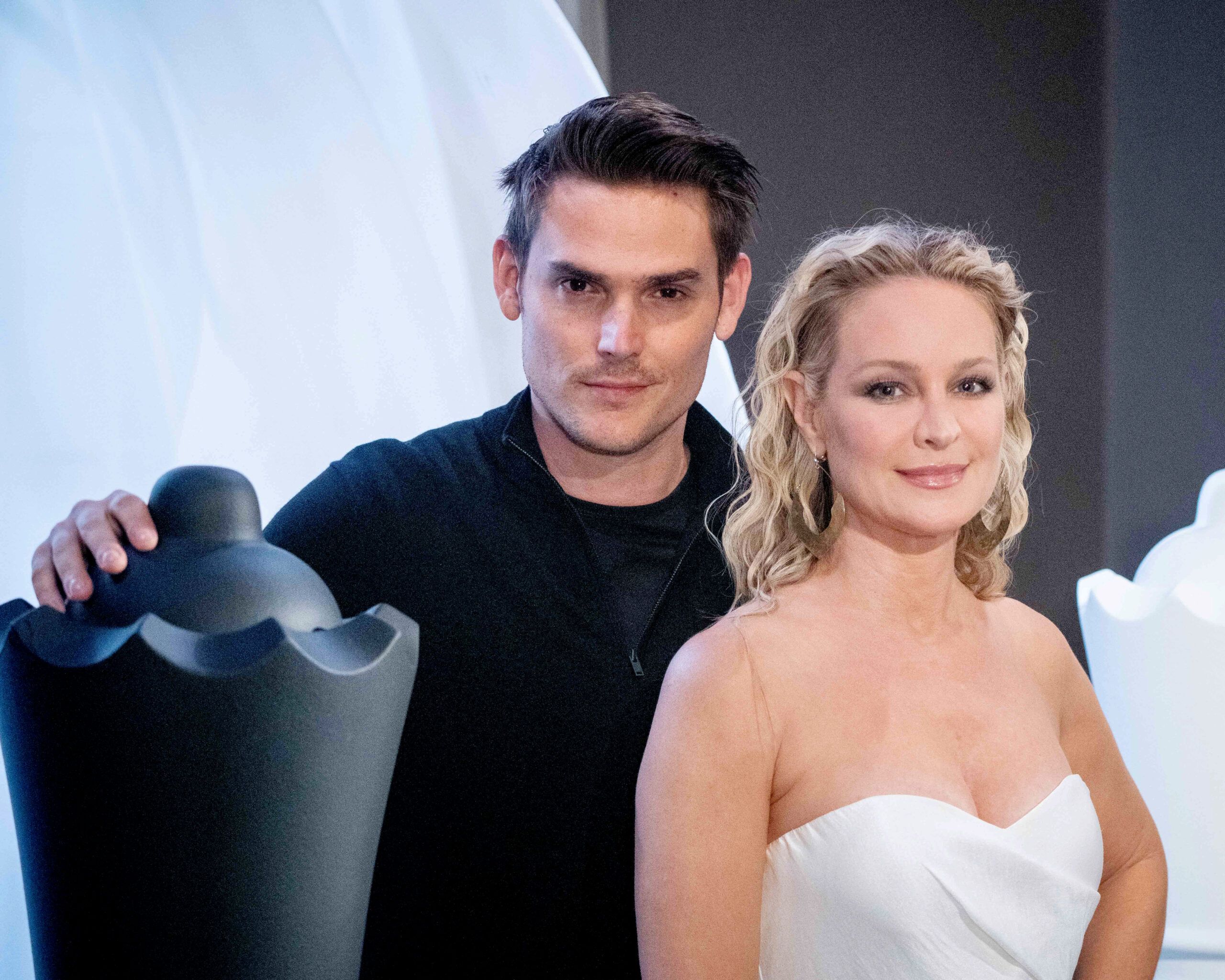 Case and Grossman did, in fact, share some steamy kissing sequences with one another while other actors did not. This was the case when Chelsea, who was recovering from a stroke in a wheelchair and couldn't communicate, envisioned Sharon and Adam kissing in front of her.
Are Sharon Case and Mark Grossman Engaged?
Fans believed Mark might have proposed to Sharon after spotting a ring on her finger. The couple hasn't yet made an official declaration of their engagement. Because of this, it's unclear if the object is an engagement ring or merely jewelry. People are curious about their relationship because they are a famous couple.
The prospect of their engagement has sparked a lot of excitement among their admirers. There were several comments asking if Mark had proposed after some fans observed an engagement ring.
Also Read: Who Is Kelly Clarkson Dating Now? Current Relationship Status!
When Mark portrayed Adam on the television series Y&R, the couple first came into contact. The actor gushed over Sharon as well, claiming that she is the first cast member with whom he has established any sort of rapport. He also shared a tender video of himself dancing with the actress back in September 2019 on social media.